Ali Harlin, Research Professor at the Technical Research Centre of Finland VTT and member of the GRETE project consortium, shared his expertise on the textile industry in occasion of our latest consortium meeting earlier this year in Portugal. He provided the participants, which included members of the GRETE stakeholder group, with an extensive overview of the major challenges of the sector to overcome in the next years. We are happy to share with our audience an extract of his presentation, summarising the main issues concerning sustainability in the textile industry and how they'll be addressed in Europe.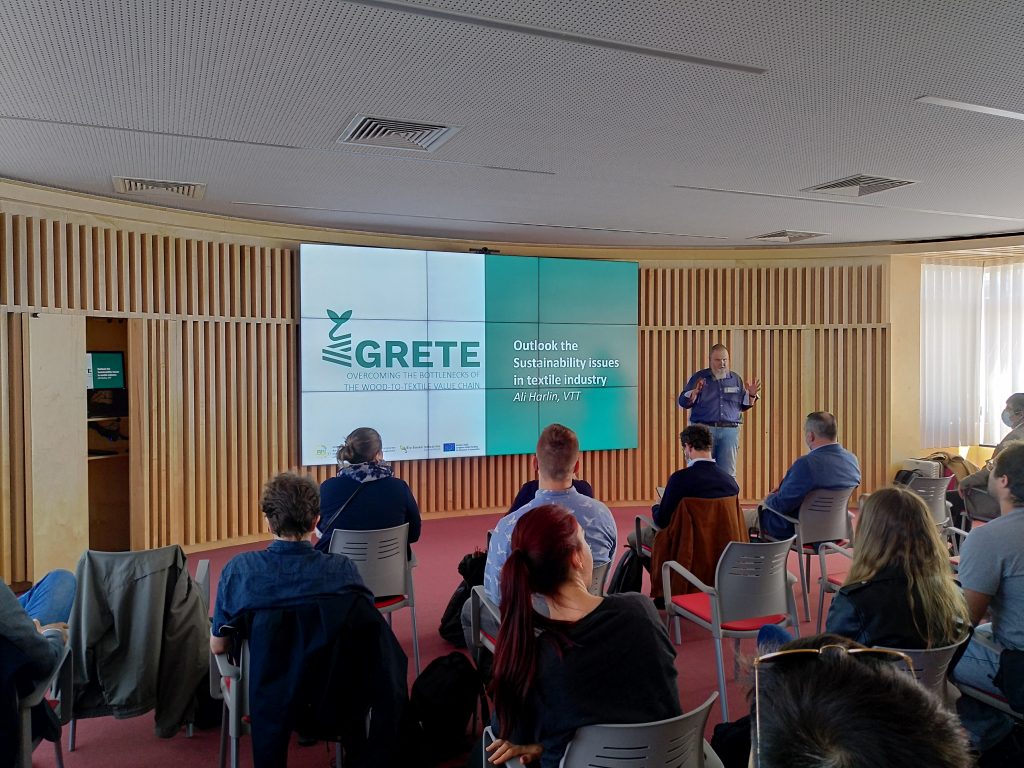 "The European Textile Strategy will be a major driving force in creating a sustainable textile industry, as well as shaping national policies. This means an all-encompassing ambitious strategy that will have impact in the textile industry development globally. The textile industry is fully international and responsible business conduct and labour conditions are not only European, but also multiple producer countries' responsibility.  Some 95% of the European textile and apparel companies are small and medium-sized enterprises (SME's). Under these conditions, the European textile industry requires funding to scale up innovations.
The European directive on textiles is based on:
extended producer responsibility
application of ecodesign principles and product requirements for textiles
minimizing and phasing out the use of harmful substances
mandatory labelling system indicating the environmental and social impact of a garment
a ban on destroying unsold textiles
These requirements mean strong demand of comprehensive sustainability demand on textiles.
Harmonized Extended Producer Responsibility (EPR) will contain demands from the ecodesign directive, following Manufacturing Restricted Substances List (MRSL) and that products are developed by the Zero Discharge of Hazardous Chemicals (ZDHC). Under conditions where 1.2 – 2.5 million unsold garments are destroyed every year it means as well investment in high-quality recycling capacity in the European Union. For example, Euratex has established an initiative on European Recycling Hubs (ReHubs).  
Development of materials requires clear rules on new alternative fiber materials. This means reconsideration on regulation on fibre names (EU no 1007/2011) for new fiber types. Clarification is essential on terms "recycled", or "regenerated" fibres and definitions of waste/non-waste with respect to end-of-life textile collection. The information of the environmental impacts to the Digital Product Passport is viable only when all that is available.
Textile fiber demand increases continuously, and when availability of cotton is limited dominantly polyester, but also other synthetic fibers fill the gap. Cotton is less than one third of all, while synthetic fibers are more that 65%. There is not yet a filled opportunity for more regenerated cellulose fibers as well increase on textile fiber recycling. Applying these materials utilization of fossil resources, greenhouse gas emissions, sweet water consumption and formation of microplastics reduces.
Utilization of certified forest as textile fiber raw-material base is both long lasting carbon reserve as well greenhouse gas emission effective. This is valid when comparing with either traditional paper products or bio-fuels. Textile materials footprint is 20-30% from fibers themselves, while 25-35% is form manufacturing and rest 35-55% from actual use. These underline requirements on high quality of fibers and recyclability of them. While raw material base reduces utilization of fossil resources or arable land, easy to color reduce consumption of chemicals and water. On the other hand, high quality and resilience of the fiber improves reuse and fiber recycling possibilities.
Currently we have multiple developing and emerging regenerated textile fiber processes. They are environmentally friendlier than viscose process and provide more fiber properties. The properties are not only high tenacity of fibers but as well those of touch, feel, softness, durability, water absorption and many others, all affecting their application and use.
Novel material technologies developed in the GRETE project for the textile industry reduce use of arable land and water footprint, solve problems related to textile waste and micro plastics, enable use of safe and environmentally friendly chemicals and simplify manufacturing with efficient processes alternatives."
Intrigued by the (r-) evolution the European textile industry is facing? Follow the GRETE project to discover disrupting technologies enabling a sustainable European wood-to-textile value chain. Keep updated and subscribe now to our newsletter.